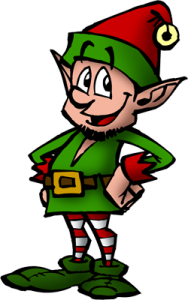 This special area of Elf HQ is designed to help you do your job as an elf. It defines what you do and connects you to appropriate areas of the North Pole.
Santa's Secret Spies — Click below to submit a Santa Secret Spy report. As a secret spy for Santa your job is to observe local conditions and report them to the North Pole. You goal is to make Santa aware of any dangers or circumstances that he might need to know before he delivers to your neighborhood. This is one of your most important jobs!

Stocking Inspector — As an elf your function is to be on the look out for any problems with anything associated with the North Pole. A Christmas stocking is the one element in just about every home that is directly associated with the North Pole. It is NOT just a place for Santa to put little presents and goodies. It is a conduit to the North Pole — a communication line for any believer in Santa. Yes, we use stockings to send communications to and from the North Pole. We call it Stocking Mail (maybe you have used it before yourself in the past). So it is very important that Christmas stockings are inspected regularly by any elf who comes in contact with one. A stocking must be clean, with no tears or holes, and it must remain empty at all times EXCEPT when a child sends a letter through it or when Santa puts stuff inside of it. If you see a stocking that does not meet this criteria, do not touch it. Just report what you see to the Department of Christmas Stocking Integrity by clicking on the button below:

Toy Consultant — Santa is a master toymaker. But he wants kids to really enjoy the toys they play with and he is constantly looking for new ideas to either improve on toys that already exist or to come up with new ones. Of course, he could ask any child for this information. But because he knows you as an elf he can TRUST what you tell him. Click below to send Santa your ideas:

Spotter Elf — Sorry to break the news to you but as an elf you are to report to work every Christmas. You are on duty from December 22nd through December 25th — every year. You will function during this time as a spotter elf. A spotter is someone who communicates directly with the Weather and Tracking Department at the North Pole. Your ultimate job is to watch for Santa in the skies above your location and report back to the North Pole when you see him. You have to have good eyes for this. If you blink you miss him because Santa works lightning fast. A spotter elf also provides critical information that could be useful to Santa as he flies and as he lands. Also, if you listen to the Christmas Eve news reports on Kringle Radio you will observe that many of the elves interviewed on the radio are called "spotter elves". These are elves just like you. You will want to keep yourself near the phone in case the North Pole News Desk calls you for a report on live radio. Click below to send in a spotter elf report (you should only send these reports from December 22nd through the morning of December 25th):

Santa Tracker — You probably already do this on your own but Santa requires it of each elf, too: your job and your duty is to track Santa. Get yourself either a globe or a world map and actually mark down where Santa is on his flight as he makes his way around the world. Listen to the news updates as they are broadcast on Kringle Radio. Read the news reports as published at Santa Update.com. This function does not require you to report anything to the North Pole. But if you are to do any of your other jobs as listed above you have to know where Santa is at all times.