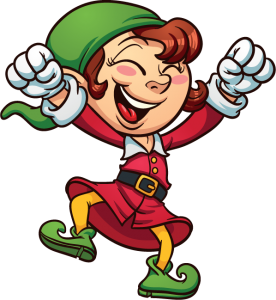 Thank you for submitting your application to become one of Santa's elves.
Your application has been accepted!
Your temporary title is Junior Elf 3rd Class.
You can either work on your elf training, as listed below, or you can apply for an open elf job position.
Ongoing training is very important in your work as an elf. Elf work is a life time profession and you should be working towards active promotions. Only promoted elves ever get to move to the North Pole for positions of greater responsibility in Santa's workshop, the North Pole post office, the reindeer stables, the Tracking Department, the Wrapping Department or other important areas associated with Operation Merry Christmas. You are therefore assigned to study the following skills:
The Art of Gift Wrapping
Cookie Making 101
Being a Good Neighbor
Weather Watching
Keeping Secrets
Giving Anonymously
Work on these skills. Eventually you will be tested by a senior elf to see if you are proficient in these areas and therefore eligible for an elf promotion.